I am a sophomore engineering student at Harvey Mudd College in Claremont, California. Im originally from the San Francisco Bay Area. I graduated from Branson high school in Ross, California in 2012.
"My hobby is hobbies" – Zakkai Davidson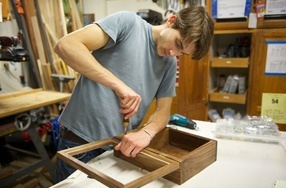 I recently heard the quote above and immediately connected with it. I absolutely love learning by doing, and this is actually how I choose most of my projects. I pick a skill I don't have, like knitting for instance, and then I pick a project that will force me to learn that skill, like making a hat. Of course I'm not going to crank out a perfect product the first time around, or even the tenth time. But, I learn so much in the process when Im forced to do a task I'm sort of clueless about, that I think I've become addicted to this process. Saying 'my hobby is hobbies' nicely sums up this trait.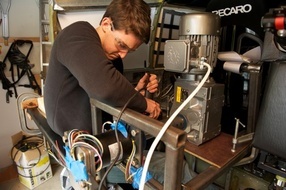 Over the years, I've managed to accumulate a number of these hobbies and skills. What started with legos and a simple desire to create has slowly snowballed into increasingly elaborate and ambitious projects. Glue-together plastic models, soldering kits, and weaving projects progressed to custom fabricated RC submarines, hovercrafts, gatling gun potato cannons, hand-crafted furniture for nearly every room in our house, and a number of other crazy projects; some useful, some not; some successful, some not. However the outcome, though, I always learn a ton.